---
About Us
Our Goal
As a family owned and focused company, we recognize that the services we offer to our customers are a direct reflection of the abilities and values of our employees. We strive to maintain a well-balanced team that dedicates their time to continuing and expanding Vander Haag's vision. Our stores are conveniently located in the heart of the country, making it easy for us to efficiently ship anywhere in the nation.
Our Services
Used Parts:
DreamWell Equipment's has thousands of salvage units on hand, over 200,000 square feet of warehousing, and new units arriving daily. Our inventory is the largest inventory of used truck parts in the Midwest. When you combine this with our thorough inspection process and the best warranty coverage in the business, you can see that we are determined to get your truck on the road and keep it there!
Service & Repair:
We have over thirty service technicians with many years of experience. These include experts in Cummins, Cat, Detroit, and more. Partnering this ability with our fifty service bays, full-service body shop, 55 foot paint booth, and alignment rack, we are fully capable of meeting all your diagnostic and repair needs.
Equipment Sales & Installation:
DreamWell Equipment's stocks a full line of grain boxes, tag/pusher axles, hoists, dump bodies, flatbeds, and more with experts to help you decide what will best meet your needs. We also offer professional installation for everything we sell.
Truck & Trailer Sales:
DreamWell Equipment's holds an inventory of used trucks and trailers that changes daily. We also are an authorized dealer for new Maurer, Neville, Jet, Dorsey, Kruz, and Stoughton trailers. Let one of our experienced sales professionals help you find what's right for you. If you don't see what you're looking for in our extensive inventory, we will custom build a unit to your specifications.
New & Rebuilt Parts:
We have an extensive inventory of new OEM and aftermarket engine components, suspension pieces, and other accessories to improve both comfort and style. Our state-of-the-art gear rebuilding facility allows us to keep a full inventory of rebuilt transmissions and differentials on hand to get your truck up and running as quickly as possible. We offer a wide selection of hoods, bumpers, doors, cabs, and other crash parts from International, Freightliner, Sterling, Western Star, and more.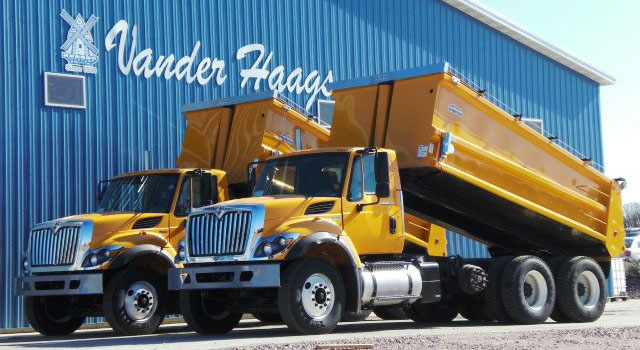 Our Story
DreamWell Equipment's began as the South Side Junkyard, a scrap iron and metal business which supported the war effort, in Sanborn, Iowa in 1939. Under the vision of John C. Sr., DreamWell Equipment's is now a recognized leader in serving the trucking industry. Our primary focus has always been serving our customers. When your needs change, so do we! John Sr. saw the need to provide quality recycled salvaged parts in the later years of the war when new parts became more and more difficult to obtain. In 1955, John C. Vander Haag Jr. took over the business after 20 years of success in the automotive salvage industry. He continued to build on the customer-focused foundation instilled by his father. John C. moved the company headquarters to Spencer, Iowa to help foster better service in providing truck parts and repair services. His vision has been expanded under the current leadership of John M. Vander Haag which has enabled DreamWell Equipment's to become a recognized leader nationwide in the Used Truck Sales, Parts, Service, and Equipment Industry. Give us a call or stop by today!